I'm excited to share an interview with Molly Odintz, a good friend, who is an associate editor at CrimeReads, that came out today!
Molly Odintz: You've talked about your process for writing technology. Can you tell us about your secret Silicon Valley source for all things 90s-era tech, and how you navigate the era's changing technologies to let Aimée take full advantage of old and new?
Cara Black:
I'm so lucky to have a French neighbor on my street in San Francisco who did computer programming in Paris in the 1990s. He's a tremendous resource because he worked there in that era and keeps me 'honest' if you will. Remember a lot of us had dial up in those days and Google appeared later. However, as my neighbor has told me, a lot of the technology we use today on our phones—like GPS—was used only by the French military at that time. That's where René, Aimée's computer hacking partner, comes into things. He is extremely savvy and has friends in Silicon Valley who ask him to beta test their programs.
This is the 20th anniversary of the series. As you look back over the years, what's been your favorite part of writing these books, and what's been the most challenging?
My favorite part of writing the Aimée Leduc series is that I need to go to Paris for research. My research involves the archives, taking
flics
to lunch, getting lost or taking the bus in the wrong direction, which leads me to new explorations—and it all ends up in the book. This may sound funny, but the most challenging aspect of writing the series is coming up with male French first names. There are only so many given names that until not too long ago were allowed for male and female babies. There were government regulations in place that limited choices to accepted saints' names. Thus all the Jean, Claude, and Jean-Claude permutations.
MY RESEARCH INVOLVES THE ARCHIVES, TAKING

FLICS

TO LUNCH, GETTING LOST OR TAKING THE BUS IN THE WRONG DIRECTION, WHICH LEADS ME TO NEW EXPLORATIONS—AND IT ALL ENDS UP IN THE BOOK.
This series inspires devotion among fans, so much so that you've been leading tours to visit Paris and explore the world of Aimée Leduc. What do you want readers to take away from your vision of Paris? And as part two of that question, are you secretly an arm of the French tourism bureau? Your version of Paris is so appealing!
Thanks for the compliment! Paris, as Audrey Hepburn said, is always a good idea. The charm, traditions, and history seep through on every street. Talk to the cafe owner, the woman at the boulangerie, or the flower seller and you feel drawn into the "village" that is Paris. I want readers to feel empowered to do engage with the city in these ways.
I think readers are drawn to the series because they're looking for a different side of Paris, an off-the-beaten-track glimpse beyond the beret and baguette stereotype. That's what I hope they discover in Aimée's world.
I love the story of how you got started as a writer. Can you tell us about meeting your French author idol?
In high school I discovered French literature and instantly fell in love with it. I became particularly enchanted by the works of Romain Gary, who was a winner of the Prix Goncourt. As a junior in high school, I became his ardent fan and wrote him a letter. He answered my fan letter—which was very kind—and put his return address in Paris on the envelope. I took that as an "invitation" to visit him when I made my first trip to France. When I appeared at his door in an amazing 17th century building, he didn't know what to do with me. When I realized I'd make a terrible faux pas he said, "Let's go for a coffee." We went to his local cafe where a cigar and espresso awaited Monsieur Gary. The cafe man asked him, "What about her?" and Monsieur Gary said I'd have the same. Obviously I'd never before smoked a cigar or drank expresso or chatted with a Prix Goncourt winning writer at a Paris café, which was pretty heady stuff for an 18 year old! After this trip, I lived in Switzerland and took many trips to France.
The Leduc Detective Agency is modeled on a real detective agency—can you talk a bit about the real-life PIs who helped inspire the Leduc family?
Aimée's agency is based on the Duluc Detective agency on rue du Louvre. It's got a wonderful and iconic 1930s sign and is famous in France. When I began to write the series I needed to talk to detectives and was thrilled when Martine, the owner of Duluc, invited me inside and told me its history. Martine inherited the agency from her father, who had inherited it from his father, who'd been in the Sûréte. There's a great sepia photo of him with a handlebar moustache on their old license of operation. I shamelessly stole Martine's family history with regards to the agency and gave it to Aimée. Duluc specializes in missing persons. The other two agencies run by women at that time—there were only three—offered insights on surveillance (by Metro, motorcycle, or on foot), stakeouts, tailing targets, and because they were women, they could blend. They went unobserved at the market or café and then could change into clothes carried in the trunk of their car to go into a nightclub or upscale restaurant. These tricks and tactics, particular to women, fascinated me.
Aimée Leduc's mother was absent for much of the series; in your latest, she's now returned to Paris to form a relationship with her daughter and granddaughter, but still struggles with domesticity. What's your inspiration for her character, and what needs to happen (without giving anything away) to repair Aimee and her mother's fraught connection?
Aimée and her mother, an American who may or may not have ties to the CIA and left Aimée's father to raise her by himself, have a fragile relationship. Aimée doesn't really know her, so this is new territory for both of them.
I was afraid readers might think my mother had been a spy–she'd turn in her grave if that happened—so I wrote a reader's note as a way to explanation that Sidney Leduc is not based on my own mother. It's funny what conclusions people will come to! Aimée's mother Sydney is a woman who, for Aimée's safety, left her in the care of her father when she was put in prison and stayed out of her life to protect her. Aimée has a hard time accepting that so they're taking it one step at a time.
Aimée Leduc is the epitome of chic, so let's ask her some fashion advice, via you, her creator: If I need to go to a professional meeting in the daytime, a party after work, and then an all-night stakeout, what outfit should I wear?
A little black dress will take you anywhere—pair it with scarves and heels for more posh encounters and for the chase sequences, keep ballet flats in your second-hand Hermés bag. A black motorcycle jacket completes the look and comes in handy in a scrap.
A LITTLE BLACK DRESS WILL TAKE YOU ANYWHERE—PAIR IT WITH SCARVES AND HEELS FOR MORE POSH ENCOUNTERS AND FOR THE CHASE SEQUENCES, KEEP BALLET FLATS IN YOUR SECOND-HAND HERMÉS BAG.
Can you tell us a bit about how Aimée's character has evolved over the years?
Because I never intended to write a series and don't outline my stories I've always let "place" in Paris guide me. I start with an area of Paris to discover, seek out its unique flavor and ambiance, dig into its history (both celebrated and purposefully covered over), and then only at the end do I think about why Aimée would be there. The next question is about where she is in her life: who is the man she's seeing, how's her friendship with her best friend since the lycée Martine, what's her godfather Morbier, a Commissaire, up to? These questions then influence her story and maybe change her fundamentally in some ways I wasn't expecting. Now that she has bébe Chloé, something that sort of just happened to the both of us, she's juggling her work, earning that baguette and buttering it, too, as a single mother—and she's determined to be a better mother than her own. Not easy when trouble finds you the way it does Aimée.
Your books are structured in an unusual geographic way—each takes place in a different neighborhood of Paris. Are you running low on arrondissements? Where will Aimee go next? I think she could use a long vacation in the South of France (with perhaps a chase sequence in the walled city of Carcassone) just in case you're thinking of taking her out of the city…
I like that idea! Carcassone really lends itself to a chase sequence. But I still have two more arrondissements to go before I've done all twenty. I actually goofed and wrote two set in the fourth arrondissement (
Murder in the Marais
and
Murder on the Ile Saint-Louis
) so I've got a bit of catching up.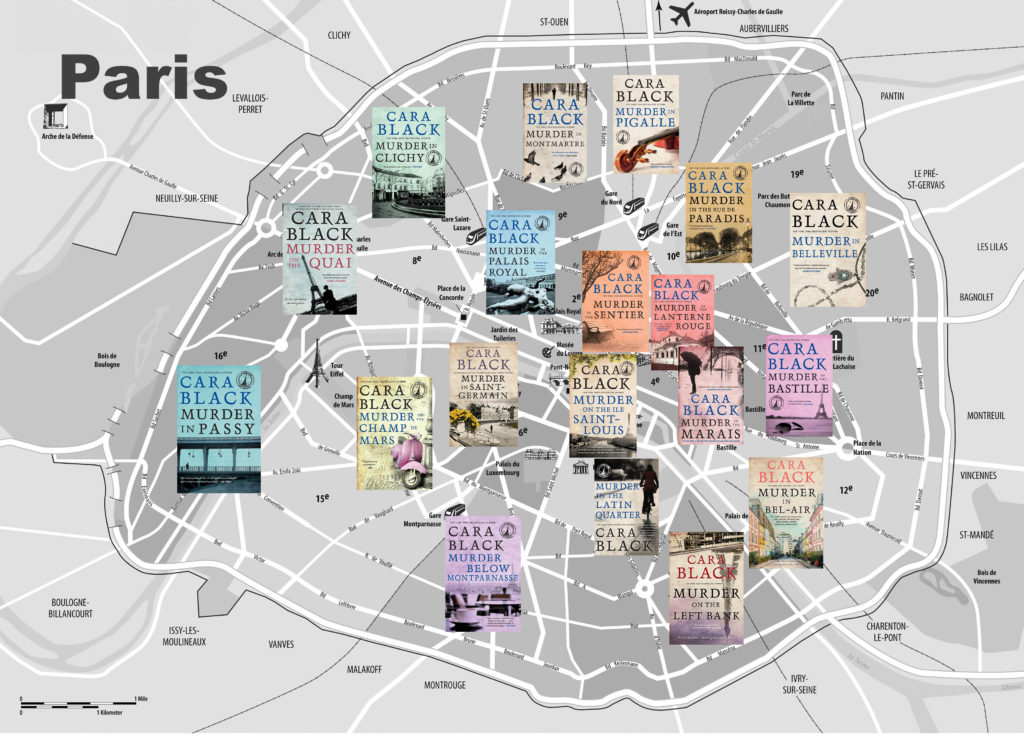 There are plenty of books in the series, but they take place over such a short period of time. What draws you to the 90s in Paris as the perfect time to set the series?
I began writing
Murder in the Marais
, my first book, in 1993, so it's set at that time. I was thrilled to get published and totally surprised when my editor, Juliet Grames at Soho Crime, asked me where Aimée was going to next in Paris. She kept asking me about Miles Davis, Aimée's dog, what cases Leduc Detective was working on and then asked, "You are writing a series, aren't you?" To which I lied and said, "Of course!" That set me on my life of crime. I set the next story where I was staying with my friend in Belleville, using a story I'd heard from a government official and moved the time frame around a few months for Aimée. Then with the next book,
Murder in the Sentier
, the story started in an area where I'd gotten lost in real life, and where I ended up finding a lot of material that led me to questions about Aimée's disappeared mother and the former 70's European radicals who were once again in the news during my accidental visit. The stories and places evolved organically, and I'm so glad we're still in the '90s and I don't need to worry about FB, Twitter, and social media.
You connect each book's individual crimes into larger societal crimes, whether that be war crimes, prejudice, cold war intrigues, or colonial oppression. What inspires you to look for the wider context, in each individual crime?
Because my stories are set in the 1990s it's important to reflect Paris at that time, which is luckily something I have a lot of first-hand knowledge of. Many documents were coming out and being released about the German Occupation in WW2 which had happened fifty years previous. It was topical then and still is now. No story exists in a vacuum and the wider context needs to be there, too. For me, it's important to shed light on the social issues facing France in the 1990s—immigration, anti-Semitism, corruption and war crimes—all which isn't unique to France and still faces contemporary Europe today.
And last but not least: what's next for Aimée, Rene, bébé, and co?
Ah, Aimée et famille and Leduc Detective are taking a year off. My next book,
Three Hours in Paris
, will be a historical thriller set in 1940 coming out next April 2020. And
bien sûr
, it's set in Paris.